Apr 18, 2022 10:48 AM Central
Keri Elkin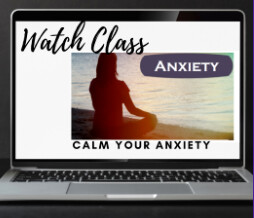 "Living with anxiety is like being followed by a voice. It knows all your insecurities and uses them against you. It gets to the point when it's the loudest voice in the room. The only one you can hear."
~Unknown
Are you living with anxiety?
Anxiety is the mind and body's reaction to stressful, dangerous, or unfamiliar situations. It's the sense of uneasiness, distress, or dread you feel before a significant event. Anxiety is not always a bad thing....a certain level of Anxiety helps us stay alert and aware. However if anxiety is your normal state of living, you'll start experiencing side effects like the below....
Restlessness, fatigue, tiredness or insomnia
Irrational fear, worry, agitation or lack of concentration
Sickness--- any of the above can lead you to a more serious state from panic attacks to physical symptoms (such as headaches, stomach issues, weight gain, etc).
Anxiety is not always related to an underlying condition. It may be caused by:
Stress that can result from work, school, personal relationship
Emotional trauma
Financial concerns
Stress caused by a chronic or serious medical condition
A major event or performance
Side effect of certain medications
Alcohol consumption, drugs such as cocaine
Lack of oxygen
Foods you eat
Anxiety is a massive indicator that something in either internal or external environment is out of balance.. Watch my FREE class Calm your Anxiety to learn more & take action to correct what's going on inside of you that perhaps is showing up on the outside as one of the side effects listed above.
Below are 2 steps you can be taking right now to naturally work towards returning to full balance and thus experience optimum health.
AYURVEDA (the sister science of yoga and an "off the mat" practice):
We try to find balance through uncovering what our unique state of balance is and thus naturally returning it that way. Some things in your life that can be causing this imbalance are relationships with family, friends, generational pasts, nature (the environment), our bodies, our community, foods, exercise, etc. You can learn more about Ayurveda here ...including taking the free body type quiz to discover your unique state of balance. My monthly challenges are practices meant to bring back balance to our

daily emotions, mental health, physical body and spiritual connections.




*This is also the last week to join my

Mindfulness challenge. Click here...to start it right away....IT'S FREE and a great first step to meditation.

MINDFULNESS CHALLENGE

---

YOGA (on the mat):




A great way to mindfully practice what we do daily is through a

Yoga routine "on the mat" to prep us for how to handle life "off the mat". When you join me for Yoga this MAY, you'll have free access to my 21-day meditation "off the mat" challenge.
April 30
th
is the last chance to lock in 2021 Yoga pricing.
---
Refresh your Spring yoga clothes by shopping with me
here for
leggings
,
bras
or
layers
. Check out our newly released spring jackets below...
---
To
your health and wellness,
---
Love what you read here? Subscribe for updates!
Follow me on social: