Get ready to elevate your mind & body
"Our self-image, strongly held, essentially determines what we become" - Maxwell Maltz
What is the number one thing you tell yourself daily?
Do you ever stop to check in with the thoughts you repeat over and over again, and start to wonder how your reality is ultimately a reflection of the voices in your head?
Are you ready to improve your self-image?
If this sounds like something you'd be interested in, then I know just how to help.
There are many ways you could improve your self-image, and yet taking the first steps towards actually DOING these things is where most people fail.
If you think you're ready to join me (and start to learn what it's like to live a life aside from self-hate and doubt and anxiety), then you're making an AMAZING decision.
First, watch "Seasonal Depression" Class
by filling out the form below. Then join me for this month's "Off the Mat" Challenge.
My monthly themes and challenges are meant to get you living a healthy lifestyle. This month, we are going to focus on Self Love. Everybody deserves to live and love their life. Believing in yourself allows you to achieve greater things, reach new heights of satisfaction and living, and start to cultivate your most authentic and fulfilling life.
It's tough work to combat the roots of a negative self-image, and this is why so many people shy away from facing their discomforts head on. Improving overall energy, relationships and prospects is what awaits you at the end of an improved self-image, so what are you waiting for?
The 28 day challenge will be delivered directly to your inbox daily...kicking off with an Intro to Self Love Webinar and also includes:
Daily lessons

filled with step-by-step instructions for making positive shifts that touch on important areas of personal growth from the kitchen to guided meditation.



A downloadable workbook with activities to help you grow and space to reflect on struggles and successes.
A collection of recipes to stay on track all year long!

5-Day Clean Eating Cleanse Manual

Grocery shopping list that coincides with meal plan.

5-day workout plan – no gym membership needed!

Daily cleanse checklist to guide you through the process and keep you focused.

Valuable information about detoxifying foods and MORE.
First watch the "Seasonal Depression" class by filling out the form below.
Sometimes we need an instant feel good to help us get to the Mat. Shop with small business me instead of the large companies that don't know you. Savvi is s
ustainably sourced fashion made for all shapes & sizes.
New customers can use my
gift code
Returning customers
grab a style box
Transform your Wellness with Essential Oils
This is a fun-filled class with tips for making small, sustainable shifts; recipes for healthy snacks, toxin-free self care products that will have you excited to put on your skinny jeans, personal growth tips, physical activity, and even relationships, career and life purpose guidance!
Join the revolution to live a healthier, happier life where you feel energized and empowered to create lasting memories with your loved ones.
Watch the EO class here.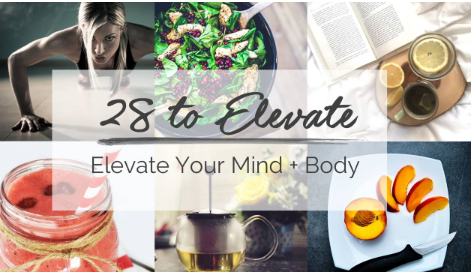 Watch my "SEasonal Affective Depression" class & Join the elevate Challenge